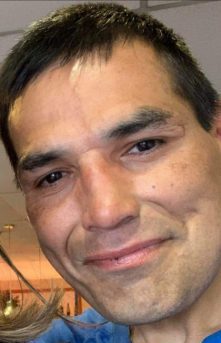 INFORMATION BULLETIN
Independent Investigations Office
For Immediate Posting
Surrey, B.C. – The Independent Investigations Office of B.C. is seeking assistance from the public to track the whereabouts of Everett Riley Edward Patrick, the affected person in an incident in Prince George, prior to his interaction with police on April 12, 2020.
To assist in the IIO investigation, the IIO is asking anyone who saw or interacted with Mr. Patrick between the dates of Friday, April 3 and Sunday, April 12, 2020 to please call the IIO Witness Line toll-free at 1-855-446-8477.
As stated in our initial release, the RCMP reported that on April 12, 2020 at approximately 4:30 a.m., officers responded to an alarm at E&I Sports in the 1400 block of 3rd Avenue, a store that is known to sell firearms and ammunition. Following several hours of negotiation, Mr. Patrick was apprehended by police, medically cleared at the hospital and taken to the Prince George RCMP detachment cells. Hours later while still in custody, Mr. Patrick went into medical distress and was transported back to the hospital where he was found to be suffering serious injury. On April 20, 2020, the IIO was notified that Mr. Patrick had died in hospital.
The IIO investigation will determine what role, if any, the officers' actions or inaction may have played into the death of Mr. Patrick.
Background
The IIO is the independent civilian oversight agency of the police in British Columbia. It investigates all officer-related incidents that result in serious harm or death, whether or not there is any allegation of wrongdoing.
info@iiobc.ca